[To view these recipes on my Bloglovin' Page - CLICK Here]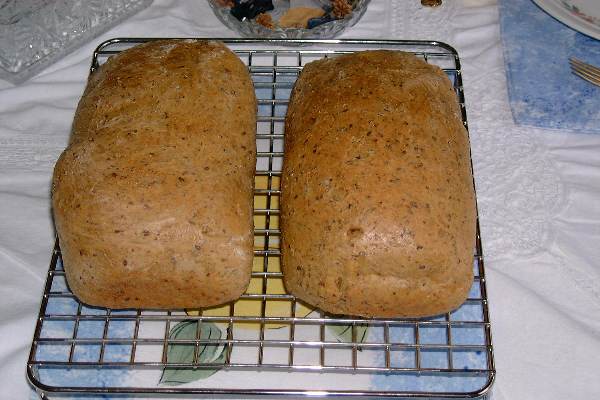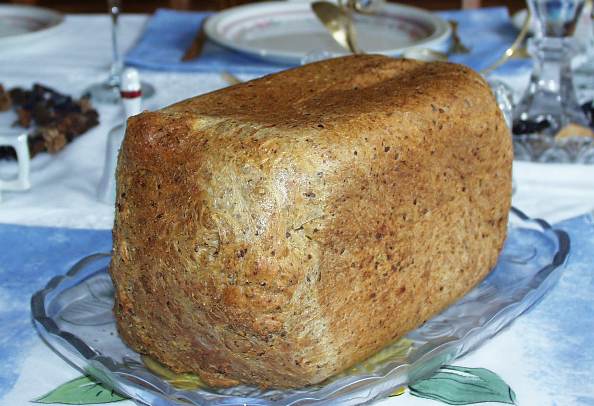 Thought I would highlight this recipe (My most famous low-carb bread recipe!) on my blog as some people have been asking for bread and don't seem to mind the gluten. It is true that gluten can be a problem, but not for everyone! It may be fructan (click here) that is the problem instead for many people.
Here is a link on

lowcarbfriends

, where there is some discussion about this recipe. Oliveoyl (I don't know her real name, but she is very knowledgeable about bread making in general), Angie (Bikerang), Christina (mac24312) and others were having good success with this bread, more so than I ever envisaged for it. A friend (Charski) alerted me to the thread and I joined the forum and joined in on the discussion to help with some of the questions.
Update: Sadly this forum closed some time ago after many years in operation.

1 cup water (250 mL)
3 tbsp olive oil (45 mL)
1 large egg
1 cup vital wheat gluten (250 mL)
2/3 cup whole wheat pastry flour, (150 mL)
OR oat flour
1/2 cup wheat OR oat bran (125 mL)
1/4 cup whole wheat pastry four, (50 mL)
OR flax seeds, ground, OR
oat flour, OR soy flour
4 tsp bread machine yeast (20 mL)
1 tbsp SPLENDA® Granular, OR erythritol (15 mL)
1 tbsp granulated sugar (yeast consumes it all) (15 mL)
1 tsp salt (5 mL)
1 tsp vanilla extract (5 mL)
1 tsp baking powder (5 mL)

In cereal bowl, heat water in microwave oven 1 minute. In bread pan, place water, olive oil, egg, vital wheat gluten, whole wheat pastry flour (or oat flour), wheat or oat bran, ground flax seeds (or whole wheat pastry flour, oat flour or soy flour), yeast, SPLENDA® Granular, OR erythritol, sugar, salt, vanilla extract and baking powder. Program bread machine to Bread Rapid setting and color to medium. Remove 30 minutes before baking time is over or when brown in color.

Variations: Loaf Pan Breads (Two): Use 1 cup (250 mL) water, 2 eggs, 1-1/4 cups (300 mL) 80% vital wheat gluten and 2 tsp (10 mL) baking powder. Follow recipe above with these changes. Program bread machine to pizza cycle. Divide dough in two equal portions. Place each portion in greased 9 x 5 x 3-inch (2 L) loaf pan and place pans on bottom shelf in preheated 225°F (107°C) oven which is off. Allow to rise 40 minutes. Set oven to 350°F (180°C), leaving loaves inside. Bake 30 minutes. Place loaves on cake rack to cool. Place in paper bag and leave at room temperature for crusty loaves. Refrigerate for longer storage or freeze.

Yield: 2 Loaves, 22 slices each, 1 slice per serving. (2.0 g Carbs)



Hamburger Buns, Hot Dog Buns or Dinner Rolls: Same recipe as for Loaf Pan Breads above. Shape dough into 12 hamburger or 9 hot dog buns or 24 dinner rolls. Place on greased pizza pan. Spray buns with nonstick cooking spray. Proceed as above and bake 20 minutes. Yield: 12 Hamburger buns.
(7.4 g Carbs), 9 hot dog buns (9.9 g Carbs) or 24 Dinner Rolls. (3.7 g Carbs)



Nutritional Analysis for Bread Machine Loaf:

1 loaf



Yield:

18 slices
Whole wheat/flax/oat flour
73.8/80.7/69.6 calories
6.7/6.9/6.5 g protein
2.8/3.6/2.8g fat
4.9/4.5/5.0 g carbs



Helpful Hints:

I have noticed that the bread machine loaf makes a crustier loaf and also if you want a much bigger bread machine loaf, use the loaf pan version ingredients. Wow, mine popped the top practically! The crust of the oven loaves is somewhat crusty immediately after baking, but becomes a softer, chewier crust. (I discovered this using the oat flour, oat bran and flax meal version). I would suggest skipping the pure oat flour version as using whole wheat pastry flour as well as regular whole wheat flour (only slightly more in carbs)is much more successful. You can use the bulk whole wheat pastry flour and a small amount of oat flour (i.e. instead of the ground flax seeds) - that should be fine. Slicing this bread: slice when completely cool with a long, sharp bread knife. Note: Using oat flour at all produces a smaller loaf and especially affects the loaf pan breads.



P.S.

After reading about people's experiences with this bread, I've decided to reduce the amount of water in the loaf pan version by 3 tbsp (that makes it 1 cup same as for the main recipe). If this bread is made entirely by hand, reduce the water another 1 tbsp.
ANOTHER RECIPE YOU MAY ENJOY
SEE our beautiful coil-bound books (last 5 gorgeous, Low-Carbing Among Friends' Team cookbooks, the coil matches the books): printed again. Limited stocks; get yours now! Amongfriends.us/Findourbeautifulrecipebooks This wonderful low-carb/keto collection of cookbooks (tons of photos, coil-bound!) is expected to sell out and after that there will only be KINDLES available!
As an Amazon Associate, I earn from qualifying purchases. Here is my Amazon store for more of my favorite products: AMAZON STORE Thank you for your support.